Ralph W. Thacker DMD
Dr. Thacker received his Bachelor's of Science Degree from Murray State University in 1977 and his Doctor of Medical Dentistry Degree from the University of Louisville School of Dentistry in 1982. Following dental school graduation and marriage to his wife, Diane, he served as a dental officer in the United States Air Force Dental Corps at Minot Air Force Base, North Dakota from 1982 - 1985. Dr. Thacker began his private practice of general dentistry in Livermore in June of 1985. He and Diane have two children, Bryan and Stephanie, both of whom are graduates of McLean County High School and are now married and pursuing their own careers and family.

Dr. Thacker is a long-standing member of The American Dental Association, Kentucky Dental Association, Green River Dental Society, The American Academy of Dental Sleep Medicine and maintains membership in a premier national study club on dental sleep medicine and TMD (temporomandibular dysfunction) that provides ongoing training. He is also an associate member of the Chicago Dental Society. Yearly continuing education is a priority for Dr. Thacker as he is committed to providing state-of-the-art dental care for his patients.

Community Involvement
Dr. Thacker has been a monthly volunteer dentist at the Christian Dental Mission in Owensboro since it was established in 1996. The Mission provides free basic dental care to those with financial need. Diane serves along side him monthly at the Mission as a expanded duty DA and clinic coordinator.

They have served in international dental missions and are active members of Buck Creek Baptist Church near Livermore.

Dr. Thacker has been a member of the McLean County Chamber of Commerce since 1985 and is a two-term past president. Founder and chairman of the Livermore Enhancement Foundation since 1993. Dr. Thacker has sought to improve the quality of life for others in Livermore and McLean County. Numerous committed citizens have worked along side him to make community improvements through the years.


Tracy Igleheart - Expanded Duty Dental Assistant
Tracy is a certified expanded duty dental assistant, trained at the University of Louisville in 2000. She is also certified in coronal polishing and radiation safety and serves as our office infection control director. Tracy has been an important part of our team since 2000 and specializes in assisting Dr. Thacker in root canal therapy, fabrication of temporary acrylic crowns, oral surgery, and dental sleep medicine procedures, and as hygiene assistant doing coronal polishing and sealants.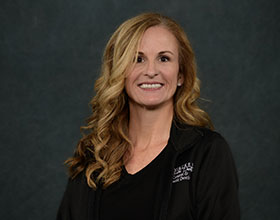 Jennifer Rickard - Expanded Duty Dental Assistant
Jennifer is a certified expanded duty dental assistant, trained at the University of Louisville in the year 2004 and is also certified in coronal polishing and radiation safety. She is an accomplished artist when it comes to finishing tooth colored bonded composite restorations for our patients, as well as creating cosmetic temporary acrylic crowns and veneers for the front teeth. In addition, she assists Dr. Thacker with dental sleep medicine procedures and sleep apnea and snoring appliance therapy. Jennifer joined our team in 2002 and is dedicated to quality dental care. She is here to assist you with your dental needs!
Diane Thacker - Office Coordinator
Diane is Dr. Thacker's wife and has been a part of the team since 1985. In 1980 she graduated from the University of Louisville, with an Expanded Duty Dental Assisting certificate and in 1984 graduated from Minot State University, with a degree in Business Management. She has much experience as dental assistant, patient coordinator, office coordinator and accountant. She continues to enjoy serving our great family of patients and working with our professionally trained staff. When you visit or call our office, she will be likely be the one who will greet you with a smile! She is determined to make you smile. Your dental health is her number one concern!